Qatar — the first Arab host of the World Cup — built a diverse team for 2022. 38% of the players are not native-born Qataris. While that is unique in some ways, it's not as unique as you might think: Foreign-born players have always been part of the World Cup history.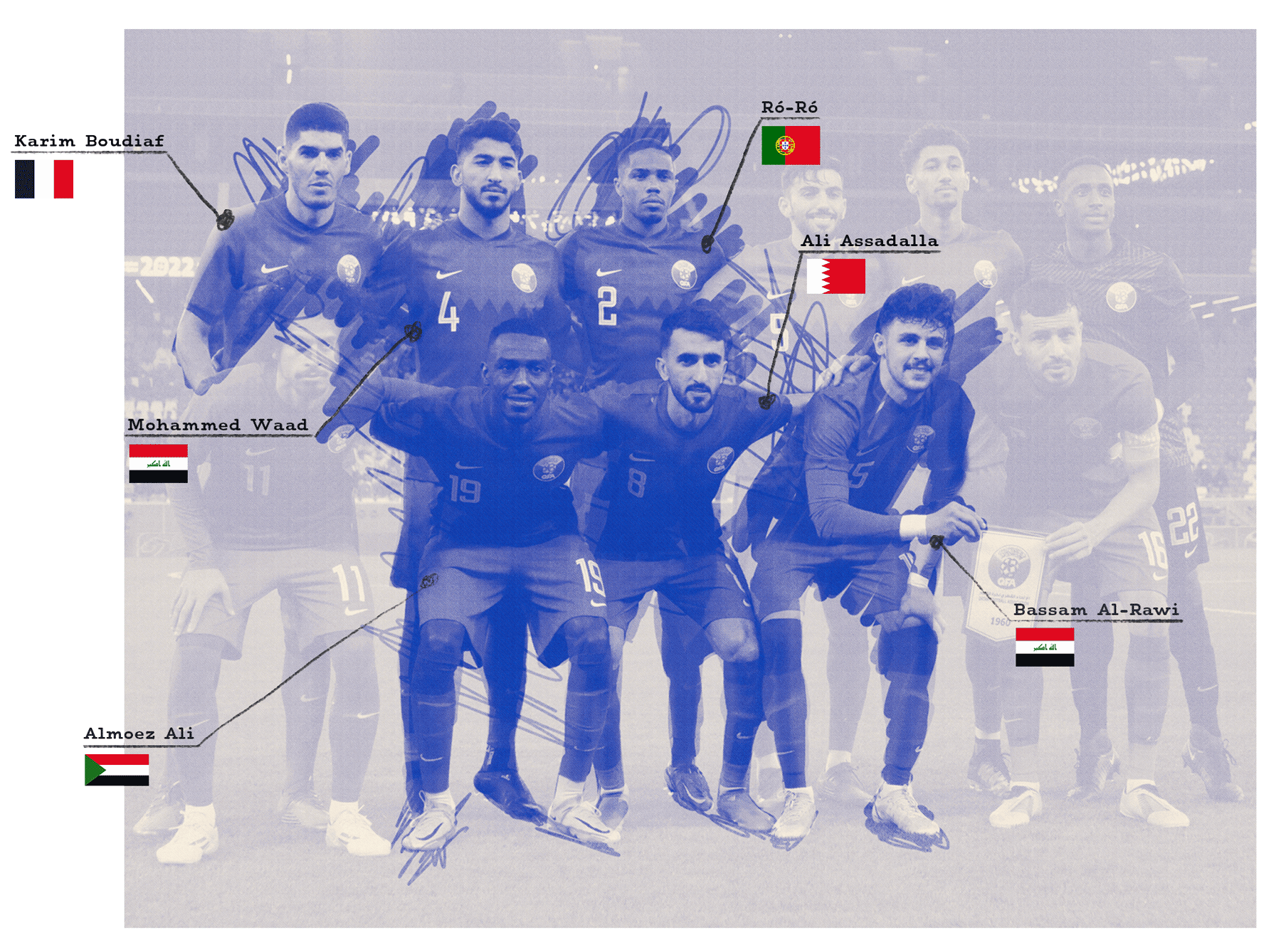 Qatar — the first Arab host of the World Cup — built a diverse team for 2022. 38% of the players are not native-born Qataris. While that is unique in some ways, it's not as unique as you might think: Foreign-born players have always been part of the World Cup history.
In 1930, the year the first World Cup took place,
5%
of the players were
foreign-born
.
By 2018, 11.2% of the players were foreign-born, more than doubling the share of the first World Cup.
Can you guess the share of foreign-born players at the 2022 Qatar World Cup?
Hint: It's somewhere between 1 and 50%.
This year, 16.5% of players, or about 1 in every 6, were born in a country other than the one they're representing, per a Vox analysis. That's the highest share in World Cup history.
How migration has shaped the World Cup
The number of foreign-born players at the World Cup is increasing. Here's why.
The 2022 Qatar World Cup has the highest share of foreign-born players in the event's history: 137 of the 830 players from the 32 teams are representing countries other than their birthplaces. 
That's already produced some poignant moments. Achraf Hakimi, who scored the winning penalty against Spain to send Morocco to the quarter-finals for the first time, was born in Madrid to Moroccan parents. In another example, Swiss forward Breel Embolo — who was born in Cameroon — scored a crucial goal in the team's first match against his birth country. His goal paved the way for Switzerland to advance to the Round of 16. Cameroon, meanwhile, did not advance.
Representing Mexico, Argentinian Rogelio Funes Mori also faced his birth country at the group stage. He played for Argentina's national team in his early 20s but wanted to represent Mexico after moving there to play professionally — a hope made possible by a 2020 FIFA eligibility rule change. One year later, he received Mexican citizenship, qualifying him for the Mexican national team.
This is the sixth consecutive tournament where the number of foreign-born players has grown, a sign not just that there's natural ongoing migration in the world but also that national teams are increasingly looking for talents outside their physical borders, and that top players today have more choices than ever. 
To get a better sense of how players ended up representing countries other than their birthplaces, we analyzed the 137 foreign-born players at the 2022 World Cup.
The 137 foreign-born players at the 2022 World Cup are not distributed evenly across the 32 teams.
On the five African teams, 42% of the players are foreign-born
. Four countries —
Saudi Arabia, South Korea, Argentina, and Brazil
— do not have any foreign-born players.
Why do some teams have higher shares of foreign-born players? There are three reasons:
ancestral connections
,
natural migration
, and
soccer-based migration
.
Morocco has the highest number of foreign-born players. Their 14 players, mostly born in Western European countries, acquired Moroccan citizenship because at least one of their parents or grandparents is Moroccan, qualifying them through
ancestral connections
.
71%
of the 137 foreign-born players qualified through
ancestral connections
to play for their World Cup country, where many of them have never lived.
Players may also be eligible because of
natural migration
— meaning they moved to the country at a young age for reasons unrelated to football and later acquired citizenship through naturalization.
22%
of the players joined this way.
Canada and Australia, where it's relatively easier to become a citizen than many other countries, got most of their foreign-born players through
natural migration
.
Then there is Qatar. Among its 10 foreign-born players, available information suggests that at least seven neither have ancestral ties to Qatar nor migrated when they were young. It appears they
migrated to Qatar to play soccer
and got citizenship because of that.
But this is far from the norm. Outside Qatar's team, only
three players
, including Mexico's Rogelio Funes Mori, became eligible to play for their World Cup country after
moving there for soccer
.
While the presence of foreign-born players is as old as the World Cup itself, what makes them eligible to represent a country on soccer's biggest stage has changed over time. 
Today, players have to be citizens of the country they are representing and have a genuine connection to it — that's often fulfilled by at least five years of residency or through ancestral connections, according to FIFA rules. This gives an edge to the countries that can naturalize players quickly through either means.
Teams are increasingly searching for star players with ancestral connections to their countries
If you're looking for an explanation for the past two decades of growth in foreign-born players at the World Cup, there's one obvious answer: There are more players representing countries where they could get citizenship through ancestral links.
And that's no accident.
Three Dutch researchers collected data on the birthplaces of the parents and grandparents of each World Cup player from 1930 to 2018 as part of their research into migrant players. Accounting for the missing ancestral data for some players and adding in data for the 2022 players, Vox found that the growing number of players representing countries their family are from is the main driver behind the increase of foreign-born players since 2002.
Meanwhile, the share of players representing countries they naturally migrated to or were recruited to for soccer hasn't changed much since then.
"That has become a fairly active practice. And that's fairly new — fairly new meaning the last 10 to 12 years," Gijsbert Oonk, one of the authors of the research and a professor who focuses on migration at Erasmus School of History, Culture, and Communication, told Vox. "Countries like Morocco became aware of the fact that there are many well-qualified soccer players from Morocco, for example, in the Netherlands, France, and Belgium. They are actively going after that to build their national teams. Those teams are built by true ethnic diaspora networks." 
This approach of recruiting descendants of emigrants might be taking off in the last decade, but it's hardly new. It traces back to Italy's hosting of the second World Cup in 1934, and Mussolini's desperation to win it all. His anti-immigrant policies included expelling Austrian and Hungarian immigrant players from the nation's professional teams. Instead, he recruited top players born and raised in South America, whose ancestors had migrated there from Italy after the unification of the country. Italy won the World Cup that year. 
In Italy's 1934 squad, five of the six foreign-born players were South Americans of Italian descent.
Since then, 5% of Italy's players have been foreign-born. And they have continued to be mainly South Americans of Italian descent.
The 1934 Italian team set the precedent for recruiting from a country's diaspora. Today, the trend is often used by African teams to recruit European players of African descent. 
There are 38 French-born players outside the French team this year, for example. All except four are representing African countries, including 10 for Tunisia, nine for Senegal, and eight for Cameroon. African players were often called up to play for their colonizer in the World Cup before their countries' independence, since FIFA didn't recognize their homelands. (For Vox's analysis, these players count as foreign-born.) Today, the trend is reversed — the former colonies are increasingly finding French-born players with ancestral ties to Africa.
Initially, former French colonies didn't have many French-born players because FIFA rules banned footballers who represented another country at a young age from switching allegiances later in life. Algeria successfully petitioned FIFA to relax these rules in 2004. For the five World Cups since, France has had four foreign-born players from its former colonies, and the former colonies have recruited 95 French-born players.
Nations of immigrants naturally have more foreign-born talent
Historically, players were more likely to play for a foreign team as a result of natural migration. Popular immigration destinations and countries that make it easy for migrants to naturalize after meeting a set of requirements including residency have naturally seen a relatively higher share of foreign-born players on their World Cup teams. 
Take the US as an example.
In the first World Cup, the US had the most international team. More than 35% of the team were migrants from Scotland and England, many of whom had fled the economic crisis after World War I.
Aside from France, the US has fielded the most foreign-born players among all national teams throughout World Cup history — 42 from 20 countries.
Canada and Australia are also historically rich in foreign-born talent because their naturalization laws welcome immigrants.
But the US no longer stands out in this regard. This year, there are five foreign-born players on the US team, and only one of them — the Colombian-born Jesús Ferreira, who moved when his father immigrated to the US to play soccer — came through natural migration. The other four were born in Europe to one or more American parents. Today, while Mexico and Asia are among the top places of origin for immigrants to the US, foreign-born players from these places have yet to represent the US at a World Cup.
A few players have moved for the sport alone — and now play for their new country's team
What if a country doesn't have a large repository of talented players, doesn't offer a clear path to citizenship through either ancestral roots or residency, but still wants to perform? 
That's the case for Saudi Arabia and this year's host country, Qatar. The former simply does not have any foreign-born players on the team; the latter found a way. 
While Qatar is a nation of immigrants — foreign nationals account for nearly 90 percent of the country's total population — the rights of non-Qatari migrants are limited, and their path to citizenship is extremely narrow. The nationality laws state that people not born in Qatar can become citizens if they have a Qatari father (but not necessarily mother) or if they lived in the country for 25 successive years, among a few other difficult routes.
So how, then, did Qatar come to have so many foreign-born players?
According to research done by Oonk and Gijs van Campenhout, professor of geography at Utrecht University, Qatar recruited young players, often under the age of 13, to Aspire Academy, a state educational program for global sports talent founded in 2004. Others came as young adults to play professionally for Qatar's clubs. Under FIFA's rules, many of these players would have become eligible to play for the national team once they had lived in Qatar long enough — if they were granted citizenship. 
Instead of full citizenship, Oonk suspects that the Qatari players got something called a "sport passport" — partial citizenship that was given to non-Qatari players on the national women's soccer team in 2013-2014 and to those on the handball team at the 2016 Olympics in Rio de Janeiro. Only exceptional non-Qatari players got full citizenship, according to previous research.
Qatar has "created what they call a mission passport, and I call them, in our cases, a sport passport. The sport passport allows them to go to FIFA and say, look, we wish this person to represent us, and here, we show the passport. As long as they have not played for other national teams — as long as they did not shift [teams] — [FIFA] keeps their hands off that," said Oonk.
Publicly available information about how Qatar's 10 foreign-born players qualified for this year's squad is limited, but at least seven appear to have no ancestral connections to the country nor enough years of residency to qualify for the country's extremely tight naturalization pathway. In other words, they would have needed a sport passport or other exception. (The Qatari national team did not respond to Vox's request for comment.)
"This is a country of migrants," Oonk said. "The majority of people are migrants. They are building their country with migrants. If that also becomes part of your national identity strategy, there is some logic in hiring migrants to represent you in international football." 
Mexico's Funes Mori, of course, is another example of a footballer who's chosen to adopt the country where he plays professionally.
And despite media coverage, such creative recruits are rare in World Cup teams, in part because FIFA has strict rules around who gets to play on the national teams. "FIFA regulations are much more strict than the International Olympics Committee, which in most sports allow players to change countries every four years," said Oonk.
While FIFA does not wade into countries' national sovereignty and weigh in on who should get a passport, it creates other rules around qualification. 
There were no citizenship requirements for players to be considered eligible until 1962. Alfredo Di Stéfano, an Argentine-born soccer player, famously played for Argentina and Colombia, and was on the 1962 Spanish squad.
Then in 2004, FIFA added the requirement that players have "a clear connection" to the country after discovering that Qatar allegedly offered three Brazilian players money to play for the Arab state and gave them Qatari nationality. In 2008, they extended the residency requirement for the "clear connection" from two years to five. 
FIFA has been concerned about the denationalization of the sport for a while. In November 2007, FIFA's then-president Sepp Blatter said: "If we don't stop this farce, if we don't take care about the invaders from Brazil towards Europe, Asia, and Africa, then, in the 2014 or the 2018 World Cup, out of the 32 teams you will have 16 full of Brazilian players."
The hypothetical fear has never come true. "People are afraid of it, but that's really not happening," said Oonk. "In normal professional lives, most people do not migrate. 95 percent of the people work and live in the places they were born." And for those who do migrate to play soccer, the majority of the foreign-born players come from migration corridors — that is, country pairs that have seen a long history of one-way or two-way migration, according to the researchers.
The data backs it up. This year, only three foreign-born players among the 137 are from Brazil. Instead of recruiting players purely for their talent, teams have instead been looking for top players who also have ancestral roots to their countries. 
Do foreign-born players make a difference? Morocco would say yes. The team had only three foreign-born players for the four World Cups they qualified for between 1970 and 1998. After failing to qualify for the next three World Cups, they came back to the 2018 World Cup with almost three-fourths of the team born and raised outside Morocco.
But Brazil, the team with the most championships, has never had a single foreign-born player in its history. Instead, the country is a large exporter of foreign-born players despite this year's anomaly. Since the first World Cup, 26 Brazilian players have represented 13 teams other than Brazil, according to Vox's analysis.
An incomplete story
Just like the world, the World Cup has always been diverse, and looking at foreign-born players alone doesn't show the full picture. France, the defending champions, won the last cup with a team including only three players born outside of France, but the majority of the team were the French-born children or grandchildren of African migrants. 
That has been the case since the first World Cup. The 1930 Uruguay squad had only one foreign-born player, but the team included many children or grandchildren of Italian or Spanish migrants as well as José Leandro Andrade — a descendant of enslaved people and one of the first players of African descent in the World Cup.
The origins of the team's players had already been an issue. Fourteen years earlier, Chile had unsuccessfully challenged Uruguay's victory in the first Copa America, claiming Uruguay illegitimately played two players from Africa. They were descendants of enslaved people born and raised in Uruguay. 
While the diversity of teams is nothing new, neither is controversy about what it means to represent a country.