With a social media-obsessed president in the White House, more Americans than ever are getting news from social platforms like Facebook, Twitter and even Snapchat.
More than two-thirds of American adults — 67 percent, to be exact — "get at least some of their news on social media," according to new data released Thursday by Pew Research Center. That's up from 62 percent of American adults in 2016.
Surprisingly, many of those new social media news consumers are not millennials. Pew found that 55 percent of Americans 50 or older reported getting news on social media sites, up from 45 percent in 2016.
As far as the platforms go, Facebook still dominates: Forty-five percent of all American adults say they get some news from Facebook. YouTube is the next on the list, with 18 percent of U.S. adults getting news there. Eleven percent of U.S. adults get news from Twitter.
But while Twitter still lags far behind Facebook in total news consumers, it still seems to be benefiting from President Trump, who is a heavy tweeter. Pew found that 74 percent of U.S. adults who use Twitter say they get news there, up from 59 percent of the site's users in 2016.
It shouldn't come as a shock that more people are turning to social media for news. Trump tweets daily, and his (presumably) unfiltered tweets are often provocative, policy-focused and controversial.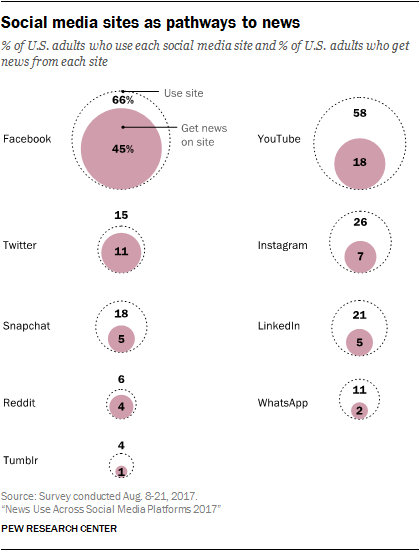 But it also shines a light on the potential impact of so-called fake news, which can spread like wildfire on social media. Many believe fake news helped influence the 2016 presidential election. Facebook, in particular, has been dealing with fake news by trying to make changes to its media policies and to its News Feed algorithm to limit the reach of fake news, or punish publishers who share it. Considering 45 percent of all U.S. adults get news from Facebook, you can understand why.
You can also understand why Russian groups used Facebook to coordinate a misinformation campaign during the run-up to the election, and why Russian advertisers bought political ads on the social network. It's the best way to reach the largest number of Americans.
---
This article originally appeared on Recode.net.