On Thursday, South Carolina Gov. Nikki Haley signed a bill allowing the Confederate battle flag to be taken down from the statehouse.

[Vox / German Lopez]
During a debate that stretched into the wee hours of Thursday morning, State Rep. Rick Quinn proposed an amendment calling for the flag to be placed in a relic room — but the final bill is sending the flag to a museum, where it can more appropriately be placed in context.

[Politico / Ben Schreckinger]
Meanwhile, in Congress — in an appropriate move for a flag that associates itself with "the Lost Cause" — congressional Republicans tried a rearguard action to take out a provision in an Interior Department funding bill that would ban the flag from national cemeteries.

[NYT / Jennifer Steinhauer and Jonathan Weisman]
This almost certainly isn't the last we'll hear of the flag. Republicans are actually more supportive of it than they were in 2000.

[Vox / Matt Yglesias]
PS: Please don't call it the "Stars and Bars" or the "Confederate flag." You will look like you don't know what you're talking about.

[CNN / Ben Blumfield]
Crash in a China market
First off: If you're behind on the news, check out this explanation of China's margin-trading crash in fewer than 500 words.

[Vox / Timothy B. Lee]
On the other hand, here is a (less short) explanation of why you shouldn't.

[Vox / Matt Yglesias ]
How the people of China — including one stock-trading teenager — are dealing with the crash.

[CNN / Steven Jiang]
Vox's Max Fisher argues that's the right response — because the government's authoritarianism is dooming its economy.

[Vox / Max Fisher]
Donald Trump is tearing the GOP apart
Unfortunately for Priebus, the first debate, on August 6, is poised to take the 10 best-polling candidates — a standard statisticians hate but Trump surely loves.

[Bloomberg / Steven Yaccino]
But Fox News might have found a brilliant strategy to keep Trump out of the debate: It's making candidates file financial disclosures with the FEC first.

[Slate / Josh Voorhees]
A financial disclosure doesn't tell the public a ton, but it's still enough to make life awkward for rich candidates.

[Bloomberg / Richard Rubin]
Trump might have a particularly hard time, since he's been inflating his net worth by 100 percent on the campaign trail.

[Forbes / Erin Carlyle]
It could also be an awkward reminder of the tens of millions he's lost in corporate partnerships, since corporate America is more interested in the Latino market than in the anti-political-correctness market.

[Vox / Dara Lind]
Misc.
Some hospitals treat patient harm as inevitable, while others treat it as a chance to improve — and it makes a world of difference.

[Vox / Sarah Kliff]
For a (somewhat) lighter take on hospital mixups: A Colombian hospital swapped one infant from a pair of identical twins with one infant from another pair — then the two sets found each other as adults.

[New York Times / Susan Dominus]
The alleged Chinese hack on Office of Personnel Management files might be more serious than previously thought — sources now say hackers have access to 19.7 million clearance forms.

[WSJ / Damian Paletta and Danny Yadron]
Anatoly Liberman explores the etymology of the word "bad" — which some have proposed came from the Cornish word for "lunatic" or the Old English word for "hermaphrodite."

[OUP Blog / Anatoly Liberman]
Verbatim
"Sartre once wrote of the Jews, 'It is the anti-Semite who creates the Jew.' The same can be said about Muslims, as the documentary filmmaker and novelist Karim Miské — who was born in Ivory Coast and was not brought up Muslim — wrote in Le Monde: 'It is the Islamophobe who makes the Muslim.'"

[Vanity Fair / Marie Brenner]
"When critics compare John Kerry to Neville Chamberlain, they act as if 1938 is the only year in history with useful lessons. The seven decades of the nuclear era also offer lessons, the most salient of which reinforces Nietzsche: Remember what America is trying to do."

[The Atlantic / Graham Allison]
"Charly 'Africa' Keunang read plays because when he was younger he'd dreamed of becoming an actor, had immigrated to the US to be in the movies. That didn't happen until the day he died."

[GQ / Jeff Sharlet]
Image of the day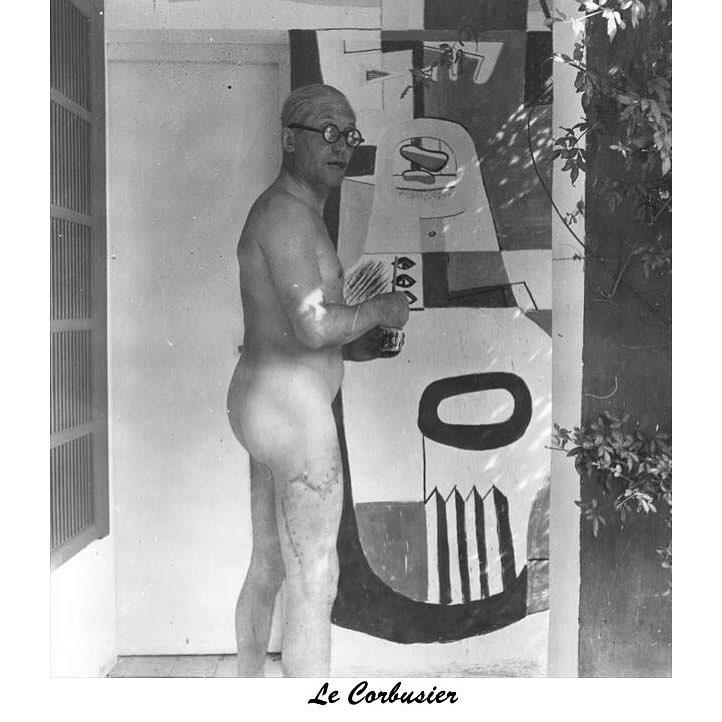 Le Corbusier. Giant of architecture; despicable politics; and, in the words of the UChicago Press Twitter account, an "OK butt."
Get Vox in your inbox!
Add your email to receive a daily newsletter from Vox breaking down the top stories of the day.
By signing up, you agree to our terms.
Will you support Vox's explanatory journalism?
Most news outlets make their money through advertising or subscriptions. But when it comes to what we're trying to do at Vox, there are a couple of big issues with relying on ads and subscriptions to keep the lights on:

First, advertising dollars go up and down with the economy. We often only know a few months out what our advertising revenue will be, which makes it hard to plan ahead.

Second, we're not in the subscriptions business. Vox is here to help everyone understand the complex issues shaping the world — not just the people who can afford to pay for a subscription. We believe that's an important part of building a more equal society. And we can't do that if we have a paywall.

So even though advertising is still our biggest source of revenue, we also seek grants and reader support. (And no matter how our work is funded, we have strict guidelines on editorial independence.)

If you also believe that everyone deserves access to trusted high-quality information, will you make a gift to Vox today? Any amount helps.
Sign up for the newsletter

Sentences

The day's most important news stories, explained in your inbox.