OPM hack takes a turn for the serious
The director of the Office of Personnel Management, Katherine Archuleta, resigned today. OPM is the agency responsible for the federal government's personnel databases — the ones that were hacked earlier this year, resulting in the theft of more than 22 million people's personal data.

[New York Times / Julie Hirschfeld Davis]
The office had been warned for years that a data breach was possible given the low level of security surrounding OPM databases.

[Vox / Timothy B. Lee]
The data may include sensitive information, such as a person's criminal background or sexual orientation.

[Wired / Kim Zetter]
Here's one way to look at the size of the hack: More than five times as many people were affected as are employed by the entire federal government.

[Office of Personnel Management]
The government hasn't identified a suspect yet. But Director of National Intelligence James Clapper has said that China is the "leading suspect."

[WSJ / Damian Paletta]
Greece capitulates to EU demands
Greek Prime Minister Alexis Tsipras's most recent bailout proposal, released late Thursday, contains similar and perhaps harsher concessions than the previous German-led deal voted down by Greeks.

[Vox / Timothy B. Lee]
Despite Greece's many concessions, other European leaders are responding to the proposal with skepticism, perhaps indicating that an agreement will not be reached by the Sunday deadline — leaving Greece cut off by the European Central Bank.

[Vox / Matt Yglesias]
Here's what various people — including Angela Merkel and the president of the Eurogroup — have said about the new proposal.

[NYT ]
Responding to hopes that the Greek crisis will soon be resolved, financial markets across the globe have increased in value.

[MarketWatch / Carla Mozee ]
However, Tsipras and his finance minister, Euclid Tsakalotos, had a hard time convincing other Greek officials to support the proposal in a legislative session Friday morning.

[NYT / Andrew Higgins and Niki Kitsantonis]
The only Lee from the South whom everyone can get excited about
The Guardian has published the first chapter of author Harper Lee's Go Set a Watchman, the decades-in-the-making companion novel to To Kill a Mockingbird.

[The Guardian]
Lee first submitted Go Set a Watchman to publishers in 1957, then set it aside to write To Kill a Mockingbird. The two books feature the same characters — the Finch family — but Go Set a Watchman takes place several years later.
That's worrisome, because Lee is now in the advanced stages of dementia, and people close to her have argued she's way too confused to make informed legal decisions — like the one that led to the publication of Go Set a Watchman, for example.

[Vulture / Boris Kachka]
Even the state of Alabama, where Lee resides, opened a brief investigation into whether she was the victim of coercion or abuse earlier this year. Ultimately, the state decided the concerns were unwarranted.

[The Atlantic / David A. Graham]
Lee's editor didn't even know about the book until its upcoming publication was announced in February.

[Vulture / David Marchese]
Figuring out when someone with dementia is making an informed decision — and when he or she is being coerced or abused — is really tricky. This column has some good tips from clinical practice.

[Philadelphia Inquirer / Jason Karlawich]
Misc.
In the case of Charleston shooter Dylann Roof, the FBI admitted that its background checks failed. Roof's previous arrest for drug posession should, in theory, have stopped him from purchasing a gun.

[Politico / Adam B. Lerner]
Barack Obama is about to become the first sitting president to visit a federal prison.

[VICE News]
The government is terrible at giving reporters documents requested under the Freedom of Information Act. Now it's proposing a reform that will make reporters not want to file requests in the first place.

[Washington Post / Erik Wemple]
Remember yesterday when House Republicans briefly tried to amend a bill to allow the display of the Confederate battle flag at cemeteries? Apparently no one really knows whose idea that was.

[Roll Call / Emma Dumain]
A recent study showed that Google is more likely to show ads for high-paying jobs to men. Sometimes algorithms, like humans, behave wtih prejudice.

[NYT / Claire Cain Miller]
With San Diego Comic-Con under way, here's everything you've ever wanted to know about cosplay.

[Vox / Alex Abad-Santos ]
Verbatim
"Just after the ceremony starts — according to a written agenda — the graduates must 'follow the instruction and shout loudly the slogan, "Revive the A shares, benefit the people; revive the A shares, benefit the people.''"

[Financial Times / James Kynge]
"Why does this man shape so much of what the West thinks about China? Because he gives us what we want: digestible, consistent platitudes about the lack of freedom in authoritarian regimes."

[Los Angeles Review of Books / Rebecca Liao]
"You walk into a bookstore and it's a sea of white. It's tough when you're not represented out there in the world — it makes you feel very strange about yourself, like you don't matter."

[Varian Johnson to Vox / Leigh Anderson]
"It is time to ensure the right incentives and mutual accountability to unlock greater progress towards sustainable development ... With the right investments and policies, we can be the first generation that ends poverty and the last that avoids the worst effects of climate change."

[The Guardian / Ban Ki-moon]
Video of the day
After a nine-year journey across billions of miles, NASA's New Horizons spacecraft will be sending back hi-res photos of Pluto.

[YouTube]
Photo of the day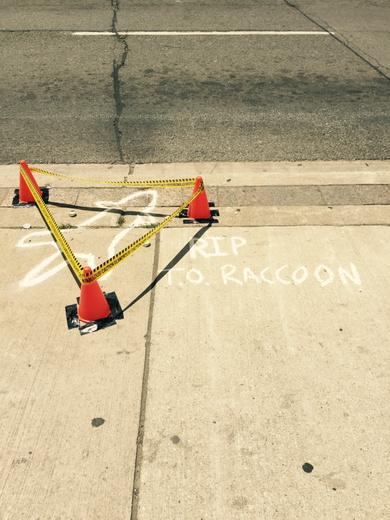 An impromptu memorial for a dead raccoon was set up on a Toronto street (and then picked up by city officials).
Get Vox in your inbox!
Add your email to receive a daily newsletter from Vox breaking down the top stories of the day.
By signing up, you agree to our terms.
Will you support Vox's explanatory journalism?
Most news outlets make their money through advertising or subscriptions. But when it comes to what we're trying to do at Vox, there are a couple of big issues with relying on ads and subscriptions to keep the lights on:

First, advertising dollars go up and down with the economy. We often only know a few months out what our advertising revenue will be, which makes it hard to plan ahead.

Second, we're not in the subscriptions business. Vox is here to help everyone understand the complex issues shaping the world — not just the people who can afford to pay for a subscription. We believe that's an important part of building a more equal society. And we can't do that if we have a paywall.

So even though advertising is still our biggest source of revenue, we also seek grants and reader support. (And no matter how our work is funded, we have strict guidelines on editorial independence.)

If you also believe that everyone deserves access to trusted high-quality information, will you make a gift to Vox today? Any amount helps.
Sign up for the newsletter

Sentences

The day's most important news stories, explained in your inbox.